Rent a family car (van-bus)
Rent a family car Viano car rental
Viano car rental
Rent a Mercedes Viano to serve businessmen, rent a Viano car, van for rent 00201028403255,
rent a car in Egypt per month, rent a car for 7 people
Family van rental, car rental, Mercedes car rental in Egypt, van rental for trips, bus rental in Egypt
, Viayu van rental, H1 rental, tourist bus rental, bus rental, bus rentals, tourist bus rental, buses for rent
Rent the latest and most luxurious Mercedes Fiano Van in Egypt
, so Nassar Limousine Company 00201028403255 offers everything that is best and offers you rent a Mercedes Viano 2022, the highest category for daily rent in Cairo and all governorates in Egypt,
You will always find comfort and speed with us in performing service and safety
, renting a van for reception service from the airport and delivery to a hotel and all places inside and outside Cairo, renting a viano van also for family trips and attending conferences and seminars for businessmen as it is
One of the most comfortable and luxurious cars in the world
, as it is enough for 7 people to sit comfortably during their trip
You will also always find with us comfort, speed in performance, service and safety in renting Mercedes Viano Van buses
All over the Arab Republic of Egypt, which is provided by our company,
which owns a wide network of cars throughout Egypt and is primarily to become a brand for bus rental and Mercedes van rental in the sector with its determination to meet all your demands and Mercedes Viano Van rental will be a great choice for you with the best understanding of service And at the lowest possible price for reservation 01028403255
Viano car rental |Cheapest bus rental in Egypt
Viano car rental
50-passenger bus rental, 50-passenger bus rental, 33-passenger bus rental 00201028403255, 50-passenger Mercedes bus rental, 50-passenger Mercedes bus rental, 50-passenger bus rental, minibus rental, coaster rental
Renting 50-passenger buses with discounts a month before the end of the year. Renting Mercedes buses sufficient for 50 people
As far as the Nassar Limousine Company for Tourist and Land Transport offers many types of buses of the highest categories (500-600) for all internal and external trips in Cairo, Ain Sukhna,
Sharm El-Sheikh, Hurghada, the coast, Fayoum, Marsa Muttrah, Alexandria,
We also have all buses for rent, minibus, Toyota Coaster 28 people, bus 33,
Rent a 15-passenger microbus, rent a Hiace, rent a 50-passenger bus, rent a van,
rent a Hyundai 7 passengers, all models
Modern and air-conditioned, so take the initiative to book and get the best New Year's vacation that you will spend with your family and friends to feel comfortable and safe also for all your family occasions. Rent a Mercedes bus. All our buses are air-conditioned and fully sterilized
To ensure the health, safety and security of your family, so do not worry and enjoy all your special travels and trips
From Nassar's limousine office
For luxury tourist transportation, we also charge a luxury Mercedes bus for one-day trips, so I enjoy going to Dream Park, the castle
Restaurants and luxury places inside or outside Cairo 00201028403255 Limousine Nassar provides you with a tourist bus rental that can accommodate 50 people, suitable for all
Excursions as well as transfers
Bus fare for short trips
Viano car rental
Bus rental, bus rental in Egypt 01028403255, Cairo coaster bus rental, VIP bus rental
Tourist buses for rent, buses for rent with driver, minibus, rent, van rental, bus rental, bus rental, tourist bus rental
Rental buses for excursions, rent a bus, rent a Mercedes van, rent a Hyundai 7 passenger, rent a Viano, rent buses for trips
Rent a reception car from the airport, rent a business car
, limousine rental with a driver, rent a family car, rent a Mercedes
Rent the latest buses for all trips inside and outside Cairo and mid-year vacations and enjoy the best times with family and friends for renting a bus, renting a minibus, renting buses,
renting a Hiace, renting a Toyota Coaster, renting a Mercedes bus
Rent a Mitsubishi bus, rent a 50-passenger bus, rent a 7-passenger Viano
, rent a Hyundai 7-passenger, rent a 50-passenger bus
Therefore, enjoy the best offers and discounts offered by Nassar Limousine Company 01028403255, bus rental 33 passengers
On renting the latest types of buses for daily, monthly, and annual rent.
We also have the most luxurious types of modern buses in Egypt, a 50-passenger bus, class 500 and class 600, for a tourist bus fare.
Lowest costs for tours in Egypt
Whether you are traveling alone, as a couple, as a family, or with a large group of friends
You are sure to find the right type of family car. Choose among cars and buses
Special terms we all have plenty of limousines to suit your needs. You do not need to worry anymore. Leave your itinerary on us from where we have all the luxury cars and buses.
Chevrolet rental for 33 in october
Rent a family car (van)
Chevrolet rental, coaster bus rental with driver 00201028403255, bus rental, Toyota rental, bus for rent Alexandria
Microbus rent, coaster vanrent bus rent, 50 bus Leasing, coaster for rent, vanrent, Viano car rent, limousine rent with driver, 24 passenger coaster Leasing, bus rent in Heliopolis, busrent per month in Egypt
Renting a 33-passenger Chevrolet bus for family and school trips, universities, companies, and parties
Also rent a Chevrolet bus to receive from all the rains in Egypt Rent tourist buses at the lowest prices in Egypt
In terms of our drivers are skilled in the field of driving and at the top in all ways
And they have knowledge of all safety means 00201028403255 Therefore, rent a Chevrolet bus from Nassar Limousine Company
Therefore, our company offers the strongest discounts and offers at the end of the year, so we offer you the best prices and ease of procedures. We offer you a different and distinct group of the best buses and buses to move between the governorates of Egypt.
Providing a complete service in a decent manner for conference services, businessmen and seminars, and serving the sheikhs and princes in Egypt
Therefore, you have a modern and sterilized bus before and after each trip, in order to preserve the safety of citizens
In the presence of widespread diseases and epidemics
We also provide you with a bus for important trips and important transfers that suit your business function in a way
Hyundai car for daily rent
Rent a family car (van)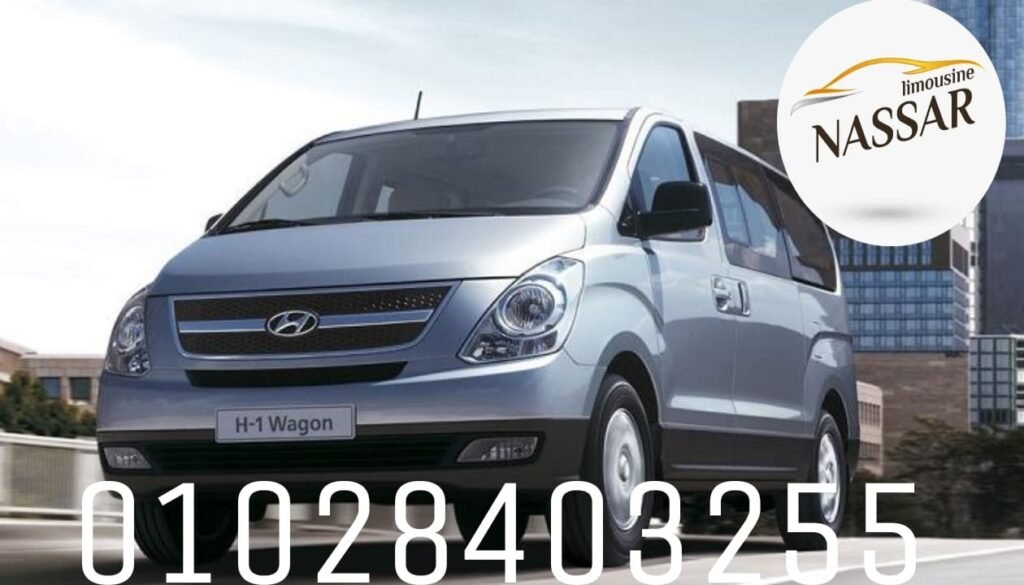 Hyundai H car rental, van rental, Hyundai rental, car rental
minibus for rent
Renting a Hyundai 7 passenger car is an ideal choice for trips, holidays, business trips and exhibitions
Thus providing luxury and comfort together, renting a 7-passenger Hyundai, renting a Mercedes Viano van,
In terms of renting buses and cars, it is much more enjoyable through your choice of minibuses
Therefore, we have all types of cars and Hyundai car rental service,
The Viano Van, in terms of its design inside and out, meets your needs more and is equipped
With the latest technological products such as seats, air conditioning, sound system, etc., book your car rental in Egypt
At least one day before renting a luxury Hyundai 7 passenger car, the only way to rent is upfront
From our companies thanks to the rental of Hyundai buses 7 passengers, Mercedes Viano van and Hyundai with driver
In terms of our companies
, it is a wide network all over Egypt in renting cars of all shapes, types and sizes.
Hence minibus rental, bus rental, van rental, car rental, large vehicle rental,
Hyundai rental, bus rental, Mercedes van rental, van rental from Nassar limousine
Hyundai H1, 7 passenger, special prices, as well as the latest models of vans, you can find them with us. Therefore, renting a Hyundai H1 van from Nassar Limousine is suitable
for you and your family's trips, whether inside or outside Cairo.
Contact: 00201028403255
Working hours are from Saturday to Thursday
From 10 am to 6 pm